Giganawendamin Dibaajimowinan. We keep the stories. Indigenous Celebrations
Celebrate First Nations, Métis and Inuit heritage with free programs for all ages. Throughout the fall, enjoy storytelling, lectures, musical performances, author talks, puppet shows and crafts at library branches across the city.
Featured Programs
Watch award-winning documentaries, learn to make a dreamcatcher or a graphic novel, and listen to talks by Chef David Wolfman and 2018 Polaris Prize winner Jeremy Dutcher.
Wednesday, December 5, 7:00 p.m. - 8:00 p.m.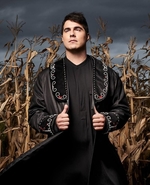 Jeremy Dutcher: Honouring Ancestral Voices
Canadian sensation Jeremy Dutcher, a classically trained Indigenous singer/songwriter and musicologist, who won the 2018 Polaris Music Prize, will discuss blending his Wolastaq First Nation roots with classical techniques and keeping his Ancestors' language alive.
Read Indigenous
Read Indigenous is a yearly list of must-read titles written by Indigenous authors, writers, illustrators and knowledge keepers for all ages, selected with Toronto Public Library's Indigenous Advisory Council.