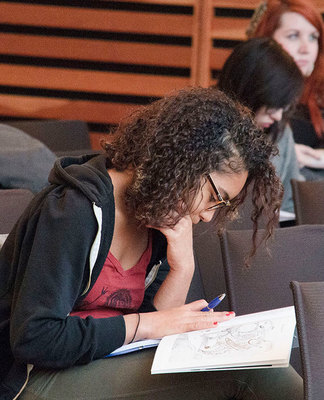 Young Voices Writing and Art Fest
EVT357901
Sat Sep 29, 2018
9:30 a.m. - 4:30 p.m.
420 mins
Join us for a full day of writing and art featuring Alexandra Shimo, Randell Adjei, Kendra Yee, Rachel Guglielmelli, Alicia Nauta, Domenico Capilongo, Falen Johnson and JP Larocque. They will be hosting a variety of free workshops on various topics including clay modelling, book binding, spoken word and more!

Come for all or just part of the day. Whatever works best for you!

Schedule of the day:

9:30 am - Doors open and Snacks
10:00 am - Welcome!
10:15 am - Reading and Q&A with Canadian author Courtney Summers
11:15 am - Break
11:30 am - Morning workshops with Kendra Yee, Randell Adjei, Alexandra Shimo and Rachel Guglielmelli
12:30 pm - Free Lunch!
1:00 pm - Open Mic / Group Art Project
2:30 pm - Afternoon workshops with Domenico Capilongo, Falen Johnson, Alicia Nauta and JP Larocque
3:30 pm - Break
3:45 pm - Wrap up and prize draw


For a full description of each workshop, please see the registration page.

For youth ages 12-19. All supplies and lunch will be provided.

Registration is required. Please get your FREE ticket through the registration link below!

The Young Voices program is supported through the generosity of the Daniels brothers in honour of their mother, Norine Rose, through the Toronto Public Library Foundation.
Related link:
Register for your FREE ticket here.