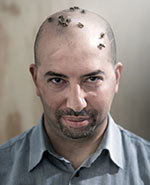 Breaking Bee - Pesticides and Bee Health
EVT330310
Mon Apr 30, 2018
7:00 p.m. - 8:00 p.m.
60 mins
Learn how a new class of mind-altering pesticides affects the health of honey bees in Ontario.

Amro Zayed, associate professor of Biology and York University's Research Chair in Genomics will discuss his lab's research work on pesticides (neonicotinoids) and bee health.

Presented as part of Toronto Public Library's Our Fragile Planet program series.