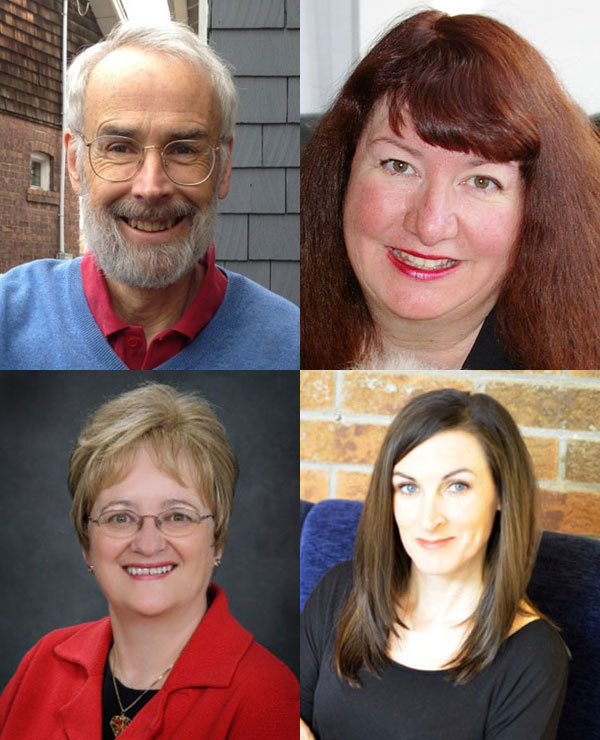 Crime Writers of Canada: Murder in the Afternoon
EVT324748
Wed Apr 11, 2018
1:00 p.m. - 2:00 p.m.
60 mins
Crime authors Mel Bradshaw, Melodie Campbell, Elizabeth J. Duncan and Lynn McPherson will speak about their work and writing the crime novel.

A Toronto native, Mel Bradshaw (crimenovel.ca) has published crime novels rooted in three different eras. Victim Impact features biker gangs and courtroom drama in the twenty-first century Golden Horseshoe. Victorian Canada provides the setting for Death in the Age of Steam, which was shortlisted for an Arthur Ellis Award and won ForeWord Magazine's 2004 Book of the Year Award in the Mystery category. His latest book, Winner's Loss, joins Quarrel with the Foe and Fire on the Runway to complete a trilogy of Roaring Twenties police procedurals set right here in town.

Called the "Queen of Comedy" by the Toronto Sun, Melodie Campbell has connections in low places. Don't dig too deep. You might find cement shoes. Melodie has shared a literary shortlist with Margaret Atwood, and was recently seen lurking on the Amazon Top 50 Bestseller list between Tom Clancy and Nora Roberts. She has over 200 publications, including 100 comedy credits, 40 short stories, and 13 novels. Melodie has won the Derringer, the Arthur Ellis, and eight more awards for crime fiction. She didn?t even steal them.

A two-time winner of the Bloody Words Light Mystery award, Elizabeth J. Duncan is the author of two series of traditional mysteries: the Penny Brannigan series set in North Wales and Shakespeare in the Catskills. She lives in Toronto.

Lynn McPherson grew up in various parts of Canada, from the Rockies to the big city of Toronto. She is a debut author who has channelled her lifelong love of adventure and history into her writing, where she is free to go anywhere, anytime. Having a particular love of New England, possibly stemming from a snowy winter's night spent at a cozy inn, Lynn knew this is where her mystery series must take place. She is a member of Crime Writers of Canada, International Thriller Writers, and Sisters In Crime. Her cozy mystery, The Girls' Weekend Murder, is the first book in The Izzy Walsh Mystery Series.