![if !(IE 8)]> <![endif]>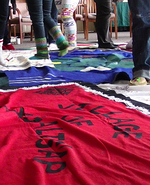 The KAIROS Blanket Exercise is an interactive learning experience that teaches the Indigenous rights history we're rarely taught. Participants take on the roles of Indigenous peoples in Canada. While standing on blankets tha...
Sat Jan 27, 2018
|
11:00 am
-
11:45 am
Location:
Jones
Join us for Family Literacy Day and play Library BINGO together to have fun and win prizes.
Mon Feb 05, 2018

|

2:00 pm

-

3:00 pm

Location:

Jones

Celebrate Black History Month with a fun and engaging show with Mystic Drumz showcasing African instruments in "The Legend of Marshmallow Island".

<![if !(IE 8)]> <![endif]>