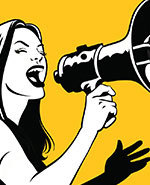 BookShout!
EVT306605
Sun Oct 22, 2017
1:30 p.m. - 6:00 p.m.
270 mins
BookShout! is Toronto Public Library's inaugural festival of books and reading for young adults. An afternoon featuring some of YA's most exciting stars and brightest emerging voices including:

S.K. Ali is a Toronto teacher whose writing on Muslim culture and life has appeared in the Toronto Star. Her family of Muslim scholars is consistently listed in the 500 Most Influential Muslims in the World. Her debut novel is Saints and Misfits.

Kelley Armstrong the #1 New York Times bestselling author of the Otherworld series, and the young adult trilogy Darkest Powers, the Darkness Rising trilogy, and the Nadia Stafford series.

Elly Blake is the author of the New York Times bestselling Frostblood Saga. She has held a series of seemingly random occupations, including project manager, customs clerk, graphic designer, reporter for a local business magazine, and library assistant.

Melanie Florence is a writer of Cree and Scottish heritage based in Toronto. She is the author of Missing Nimama, which won the 2016 TD Canadian Children's Literature Award and is a Forest of Reading Golden Oak Finalist. Her other books include Righting Canada's Wrongs: Residential Schools and the teen novels He Who Dreams, The Missing, One Night, and Rez Runaway.

Vicki Grant has published fifteen critically acclaimed and award-winning novels in her native Canada. She is also an award-winning TV scriptwriter and advertising copywriter.

Lesley Livingston is an award-winning author of teen fiction best known for her Wondrous Strange trilogy. Her fascination with ancient Celtic and classical civilizations-spurred on by recently discovered archaeological evidence supporting the existence of female gladiators inspired Fallon's story in The Valiant.

Jane Ozkowski's debut YA novel, Watching Traffic, focuses on growing up in a small town and the exciting yet terrifying summer after high school graduation. It's also about a box of gold-capped teeth. When not writing, Jane enjoys playing croquet, riding her bicycle, and travelling. She currently lives in Quebec City, but will be heading back to Ontario in the new year.

Richard Scrimger is the award-winning author of more than twenty books, including The Nose from Jupiter, Zomboy, Viminy Crowe's Comic Book and The Wolf and Me. When he's not writing or talking about writing, Richard teaches at Humber College and gets laughed at by his children. He has four of them. Well, really, they have him.

Teresa Toten is the author of the acclaimed Blondes series. Teresa was twice shortlisted for the Governor General's Literary Award for The Game and Me and The Blondes, and won the Governor General's Literary Award for The Unlikely Hero of Room 13B. Born in Zagreb, Croatia, but left for Canada on that same day, she lives in Toronto. Her latest book is Beware that Girl.

BookShout! is being presented in partnership with Mabel's Fables Young Adult Department.

1:30pm DOORS
1:45pm KELLEY ARMSTRONG and LESLEY LIVINGSTON in conversation with RICHARD SCRIMGER
3:00pm Building Character and Identity with S.K. ALI
4:00pm Coming of Age with VICKI GRANT and TERESA TOTEN in conversation with MELANIE FLORENCE
5:00pm ELLY BLAKE

Each on stage appearance will be followed by an author signing. Book sales provided by Mabel's Fables, who will be accepting credit, cash and debit on site.


Related link:
Book two free tickets beginning October 3 at 9 am.

<![if !(IE 8)]> <![endif]>