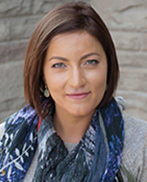 The Cutting Edge: Dr. Danielle Martin
EVT304398
Tue Nov 07, 2017
7:00 p.m. - 8:00 p.m.
60 mins
Dr. Danielle Martin is a family doctor who practices in the Family Practice Health Centre at Women's College Hospital, where she is also the VP of Medical Affairs & Health System Solutions.

Appearing regularly as an expert in the national media, Danielle is a strong advocate for removing barriers to care. In 2013, she helped found the WCH Institute for Health Systems Solutions and Virtual Care.

Books will be for sale at this event and the author will be signing. Cash, debit or credit accepted.

Dr. Danielle Martin sees the cracks and challenges in our health-care system every day. Much like Atul Gawande, she uses real patient stories to illustrate what works in our health-care system and what doesn't. Most importantly, she proposes bold fixes that are both achievable and affordable.

About the Book

Ahmad is a diabetic taxi driver who can't afford to renew his prescriptions; Jill, a 75-year old patient who went to Emergency for severe flu symptoms, ended up with a broken hip from falling down in her hospital room and then was discharged without her blood pressure meds. Sam was an active, healthy retiree who suffered a stroke from an unnecessary heart test. All of these people suffered from fixable and preventable issues that illustrate how Canadians' health needs to be better managed.

***

Ticket Holders: Limit two tickets per valid email address. Doors open at 6 pm. Please join us for a cash bar reception starting at 6 pm. As most Appel Salon events are free, it is our policy to overbook. In case of a full program, your ticket reservation may not guarantee admission. We recommend you arrive early.

Room Capacity: Based on fire code regulations the Appel Salon can accommodate seating for 458 in the main room. Seating is on a first come, first served basis. Additional overflow seating as well as standing room is available in the adjoining room.

Accessibility: Toronto Public Library is committed to providing equitable access to library service in a welcoming and supportive environment. A limited number of hearing assist devices are made available to all attendees at the Appel Salon bar. If special seating is required for any of the Appel Salon events, prior arrangements can be made by contacting event staff at salonprograms@torontopubliclibrary.ca. Please contact staff only once you have obtained an event ticket. We may not be able to accommodate requests on the day of our Appel Salon events.

Toronto Public Library is committed to the protection of your privacy and will never sell, rent, trade, or disclose your personal information, including your e-mail address, to a third party without your consent or where not explicitly authorized by the Municipal Freedom of Information & Protection of Privacy Act, R.S.O. 1990, c.M.56.

Related link:
Book two free tickets beginning Oct 17 at 9 am

<![if !(IE 8)]> <![endif]>