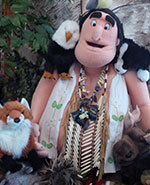 EVT288890
Rabbit and Bear Paws: Council of the Animals
Wed Jul 05, 2017
2:00 p.m. - 2:45 p.m.
45 mins
Find out how the faithful Dog saves the day in this funny and touching puppet show.

Travel back to the dawn of human memory, when all the animals lived in harmony with each other. Then, one sunny day, a bear cub discovered a little bundle of joy: the first man. He was raised and educated by our elders, the animals, learning much from them, but also becoming dependent on them. And so the animals formed a council to determine what to do about mankind. With man's future looking uncertain, his best chance to survive the judgment of the council would lie with his best friend...the Dog.

For ages 4 & up. Free tickets will be distributed 30 minutes before the show. Groups must register in advance by visiting the branch or calling 416-393-7697.