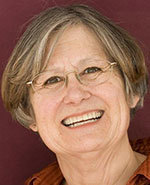 EVT287816
Award-Winning Author Visit: Hazel Hutchins
Thu May 18, 2017
1:30 p.m. - 2:30 p.m.
60 mins
Riverdale Adult Program Room
Forest of Reading nominee, Hazel Hutchins will be providing a lively presentation of dramatic readings from her books and experiences of how she became an author, and covering topics from her writing process in getting ideas, creating, and building characters. She will feature her picture book "Snap" that is listed in 2017's Blue Spruce Reading List, and her other great works.

For all ages. Drop-in.

Call 416-393-7720 for more information and to register for groups of five or more.