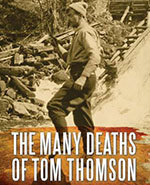 EVT283921
The Many Deaths of Tom Thomson: Separating Fact from Fiction
Thu Jun 15, 2017
6:30 p.m. - 7:30 p.m.
60 mins
In July 1917, renowned Canadian landscape painter Tom Thomson mysteriously disappeared while canoeing in Ontario's Algonquin Park. Over the last century, speculators have offered increasingly wild theories of Thomson's fate.

Anticipating the 100th anniversary of Tom Thomson's death, cultural historian Gregory Klages offers an authoritative review of the historical records related to Thomson's mysterious passing. Klages surveys first-hand testimony, archival records, and a century of speculation about Thomson's tragic demise, sorting fact from legend. Along with the details of Thomson's death, Klages' wide-ranging presentations can address issues including Canadian art history, forensics, the history of Algonquin Park and north-eastern Ontario, Canadian involvement in World War 1, and myth-making in Canadian public history.

Whether you are interested in crime mysteries, biography, provincial parks, Canadian art or Canadian history generally, The Many Deaths of Tom Thomson offers something for a wide variety of audiences.

Free program. To register and for more information, call 416-393-7720.

Place a hold on The Many Deaths of Tom Thomson.