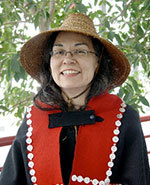 EVT263914
Storytellers from Away - Kung Jaadee
Thu Mar 30, 2017
10:00 a.m. - 11:00 a.m.
60 mins
Riverdale Adult Program Room
In collaboration with the Toronto Storytelling Festival, we present some of the most renowned and accomplished tellers from across Canada and around the world.

From Haida Gwaii, British Columbia, Canada, storyteller Kung Jaadee brings stories of a time when the animals taught us how to be true k'ongee angaa, dear people. They were our sisters, brothers, mothers, fathers, grandmothers and grandfathers. We understood them because they already knew the secrets of life.

Free program. All ages are welcome.

Click here for more information about the Toronto Storytelling Festival.