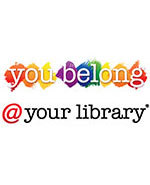 You Belong @ Your Library: LGBTQ+ & Allies Youth Group
EVT21317
5:00 p.m. - 7:00 p.m. on recurring dates listed below
120 mins
Have you always wanted to be an ambassador for equality and empowerment in your community? Come join us to celebrate the unique and diverse LGBTQ+ youth of our community. In this WEEKLY youth alliance we will engage, lead and impact in inspiring ways in our library. We will host one creative LGBTQ+ guest speaker every month. You will get the opportunity along with a team of youth just like you to plan for the event, create displays, design flyers and promote these amazing LGBTQ+ events.

Get involved and let's make a difference!

Spaces is limited! Contact Sepideh Mckensy (smckensy@torontopubliclibrary.ca) at Fairview Branch (416-395-5743) or drop in to reserve your spot.

Open to ALL LGBTQ+ and Allies. For ages 13-19 yrs old.
Upcoming Dates:
Thu Nov 23

Thu Nov 30

Thu Dec 07

Thu Dec 14

<![if !(IE 8)]> <![endif]>