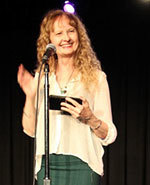 EVT17868
Palmerston Poetry and Music Salons
2:00 p.m.
-
4:00 p.m.
on recurring dates listed below
120 mins
Join us in the beautiful Palmerston Library Theatre for our monthly Poetry and Music Salons, hosted by local poet and artist Brenda Clews on the last Saturday of the month, 2-4pm. All are welcome for this free event. The salons feature poets and musicians and several open mic spots. All forms of writing are welcome, as well as music. Join us and enjoy these warm, supportive and talented afternoons. Perhaps share a poem, short story, song of your own.

Saturday, January 28, 2017, 2-4pm
Saturday, February 25, 2017, 2-4 pm
Saturday, March 25, 2017, 2-4 pm
Saturday, April 29, 2017, 2-4 pm
Saturday, May 27, 2017, 2-4 pm
Saturday, June 24, 2017, 2-4 pm


Related link:
Join the Poetry & Music Salons Facebook group.
Upcoming Dates:
Sat May 27
Sat Jun 24