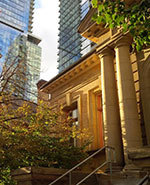 EVT17751
The Foodie Book Club
2:00 p.m.
-
3:00 p.m.
on recurring dates listed below
60 mins
Yorkville Art Gallery
The book we are reading for March is The Guernsey Literary Potato Peel Pie Society by Mary Ann Schaffer. The food theme is Irish cuisine or anything green! Prepare a small dish to share if you like.

For more information call 416-393-7660.
Upcoming Dates:
Tue Apr 18