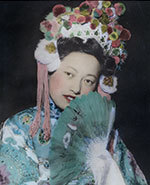 EVT293660
The Working Lives of Chinese Canadian Women: 1923-1967
Ongoing event running from: Fri May 05, 2017 - Sun Jul 30, 2017
This exhibit - located on the 3rd floor of the Toronto Reference Library - celebrates the significant contributions that Chinese Canadian women made in the mid-20th century to the economic well-being of their families and communities.

Presented to mark Asian Heritage Month in May and to complement the Destination Canada exhibit on display in the TD Gallery, the exhibit explores the experiences of Chinese Canadian women as homemakers, restaurateurs, doctors, business owners, and more from the 1920s to the late 1960s - a period of restricted immigration to Canada. Exclusionary legislation and discriminatory practices provide the backdrop for stories of sacrifice and success.

The exhibit was produced by the Multicultural History Society of Ontario. It is adapted from the MHSO's online initiative, Chinese Canadian Women, 1923-1967: Inspiration - Innovation - Ingenuity.