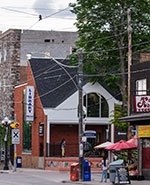 EVT289867
12th Annual Storytelling Night
Thu Aug 24, 2017
7:00 p.m. - 8:00 p.m.
60 mins
Join us in the heart of Little India for an evening of oral storytelling told by both experienced and emerging storytellers. Stories will be family-friendly and selected from various cultures.

Program will be held at the Gerrard/Ashdale branch on the outside balcony patio. The program guide will be available on the day of the event.

Drop-in. No registration required. Call 416-393-7717 for more information.