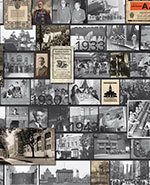 EVT285211
A Century of Ontario Photographs
Wed Aug 16, 2017
7:00 p.m. - 8:00 p.m.
60 mins
This presentation examines some of the highlights of the Archives of Ontario's extensive photograph collections, and explains how these records are managed and preserved. It showcases photographs produced by Ontario government photographers and by amateur and professional photographers based in Ontario.

Danielle Manning has worked at the Archives of Ontario for four years. She is currently responsible for the Archives' tour program, social media, and Speakers Bureau presentations. Danielle holds a Master of Information from the University of Toronto and a Masters degree in art history from the University of Western Ontario.

Drop In. No registration required.