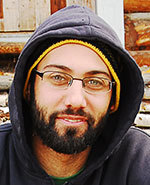 EVT280557
Pasha Malla: Fugue States
Tue May 30, 2017
7:00 p.m. - 8:15 p.m.
75 mins
Deer Park Program Room - 2nd Floor
From the award-winning author of The Withdrawal Method, Pasha Malla's latest novel, Fugue States, is an entertaining, poignant story of two friends on a journey from Canada to Kashmir, India.

With Farzana Doctor. Q&A and book signing to follow.