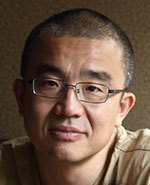 EVT280556
Life & Love in Capitalist China
Wed May 24, 2017
7:00 p.m. - 8:00 p.m.
60 mins
Don Mills Auditorium
Acclaimed Chinese-Canadian writer Xue YiWei on his first English book, Shenzheners, inspired by the small market town located north of Hong Kong where a special economic zoning project introduced capitalism to communist China in the 1980s. With Charles Foran. Q&A and book signing to follow.