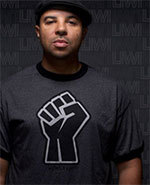 EVT268573
Black History Presentation by a.k.a. SUBLIMINAL
Wed Feb 22, 2017
5:00 p.m. - 6:00 p.m.
60 mins
Come and watch beat-boxer, DJ, lyricist and producer, a.k.a. SUBLIMINAL give a powerful presentation on black history.

This presentation goes beyond slavery and takes a look at what black people were doing before the word black even existed. Stories of black saints such as Saint Maurice to stories of the world's richest man King Mansa Musa of Mali are highlighted to show the impact that this advanced civilization had on the world and the importance of their forgotten stories today. "Black history didn't start with slavery, it was interrupted by it." The presentation is wrapped up with one of Subliminal's most powerful performances which fuses beat-box and spoken word. -From a.k.a SUBLIMINAL's website

Drop-in program to be held in The SPOT youth space.