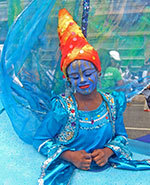 EVT267751
Black History: Children's Carnival
Sat Feb 18, 2017
2:00 p.m. - 3:00 p.m.
60 mins
This program will introduce the audience to the Children's Carnival of Trinidad & Tobago by showing photographs of the children in their exciting and colourful costumes, participating in carnival parades. Presented by Jenny Baboolal.

This is a drop in program, no registration required.